The National Memorial for Peace and Justice
The Equal Justice Initiative (EJI) plans to build a national memorial to victims of lynching in Montgomery, Alabama, which is expected to open in 2018. This memorial project relating to America's history of racial terror and lynching will become the most ambitious in the nation on this topic.
The Site
EJI has purchased six acres of land atop a rise that overlooks the City of Montgomery and out to the American South, where terror lynchings were most prevalent.
No prominent monument or memorial exists to commemorate the thousands of African Americans who were lynched during the era of racial terrorism in America. EJI has documented over 4000 racial terror lynchings of black men, women, and children, who were hanged, burned alive, shot, drowned, and beaten to death by white mobs between 1877 and 1950. The era of racial terror had a profound impact on the entire nation, as millions of black people fled to urban communities in the North and West as refugees from violent racism. The phenomenon of racial terror lynchings has not received much cultural recognition in contrast with the thousands of plaques, statues, and monuments that record, celebrate, and lionize the Confederacy and Confederate leaders. In the American South, there are hundreds of memorials to the defenders of slavery, and leaders who championed racial segregation and white supremacy, including many who perpetrated violent crimes against black citizens during the era of racial terror. In Montgomery alone there are 59 monuments and memorials to the Confederacy.
Why Build a Lynching Memorial?
In her seminal work on lynching, On the Courthouse Lawn, scholar Sherrilyn A. Ifill persuasively argues that there is a critical need for memorialization, an urgent need to change the landscape with regard to the history of lynching in America: "Public spaces have yet to become part of the formal reparation or racial reconciliation process for Black Americans." Professor Ifill, who now leads the NAACP Legal Defense Fund, champions the need for public memorials, an idea that has been expressed all over the world but not in the United States. Scholars including Martha Minow, Dean of the Harvard Law School, have long understood that continued silence about mass atrocities "compounds victimization" and tells victims and the nation as a whole that "their pain does not matter." EJI believes that there is a path to recovery and reconciliation when we tell the truth about our history in the public square.
A history of racial injustice must be acknowledged, and mass atrocities and abuse must be recognized and remembered, before a society can recover from mass violence. Public commemoration plays a significant role in prompting community-wide reconciliation. EJI director Bryan Stevenson has argued that "our nation's history of racial injustice casts a shadow across the American landscape. This shadow cannot be lifted until we shine the light of truth on the destructive violence that shaped our nation, traumatized people of color, and compromised our commitment to the rule of law and to equal justice." We all must engage this history more honestly, and a memorial creates that opportunity.
The Memorial
EJI has partnered with MASS Design Group, where director Michael Murphy and a team of visionary architects design buildings that promote healing: hospitals, clinics, schools, and, memorials. MASS created a stunning space for reflection and truth-telling in the archives at the Kigali Genocide Memorial in Rwanda, a country that, like Germany and South Africa, found it necessary to build memorials to reflect on the atrocities of their past. As Murphy observes, "We have yet to do this in the United States."
EJI and MASS have worked together to design a classical structure for the National Memorial for Peace and Justice, consisting of 800 columns - one for each county where EJI documented racial terror lynchings. When visitors enter the memorial, the ground drops and perception shifts as visitors realize that the columns that appeared to be holding up the structure are actually monuments suspended from above, which evoke the lynchings that took place in the public square. Over 4000 names of lynching victims will be inscribed on these monuments.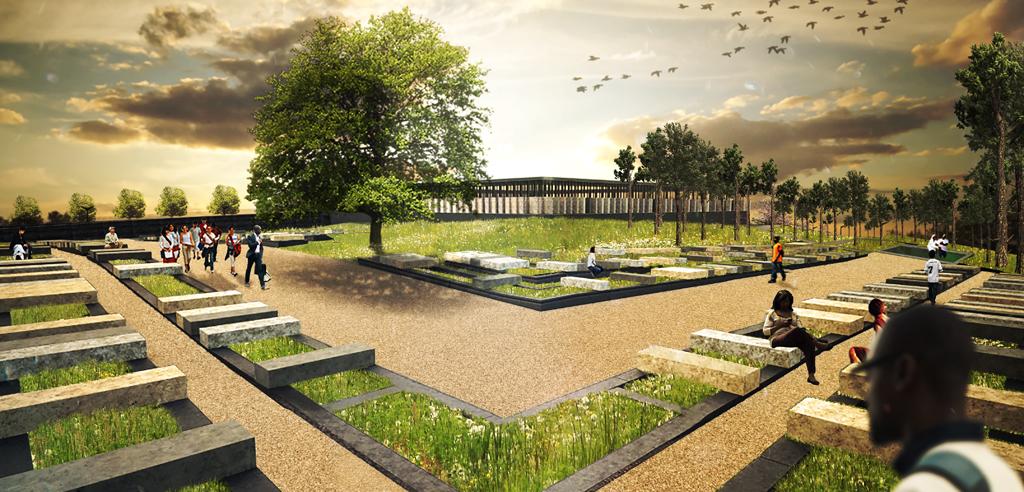 The memorial is more than a static monument. Just outside the main memorial structure will be a field of identical columns, one for each county where a lynching has been documented. EJI will be inviting each of these counties to retrieve their county's monument and place it back in the county where the terror lynchings took place. This National Memorial for Peace and Justice hopes to have component pieces all over the United States where racial terror lynchings have been documented. Over time, the national memorial will serve as a report on which parts of the country have confronted the truth of this terror and which have not.
Lynching in America
In February 2015, EJI released Lynching in America: Confronting the Legacy of Racial Terror, a ground-breaking report that documents more than 4000 lynchings of black people in the United States between 1877 and 1950. EJI identified nearly 800 more lynchings than had previously been recognized.
Racial terror lynchings were violent and public acts of torture that traumatized black people throughout the country and were largely tolerated by state and federal officials. Lynchings in the American South were not isolated hate crimes committed by rogue vigilantes. Lynching was targeted racial violence at the core of a systematic campaign of terror perpetuated in furtherance of an unjust social order. These lynchings were terrorism.
The lynching era left thousands dead; it significantly marginalized black people in the country's political, economic, and social systems; and it fueled a massive migration of black refugees out of the South. In addition, lynching - and other forms of racial terrorism - inflicted deep traumatic and psychological wounds on survivors, witnesses, family members, and the entire African American community.
Whites who participated in or witnessed gruesome lynchings and socialized their children in this culture of violence also were psychologically damaged. And state officials' indifference to and complicity in lynchings created enduring national and institutional wounds that we have not yet confronted or begun to heal.
Lynchings occurred in communities where African Americans today remain marginalized, disproportionately poor, overrepresented in prisons and jails, and underrepresented in decisionmaking roles in the criminal justice system. Only by telling the truth about the age of racial terror and collectively reflecting on this period and its legacy can we hope that our present-day conversations about racial exclusion and inequality - and any policies designed to address these issues - will be accurate, thoughtful, and informed.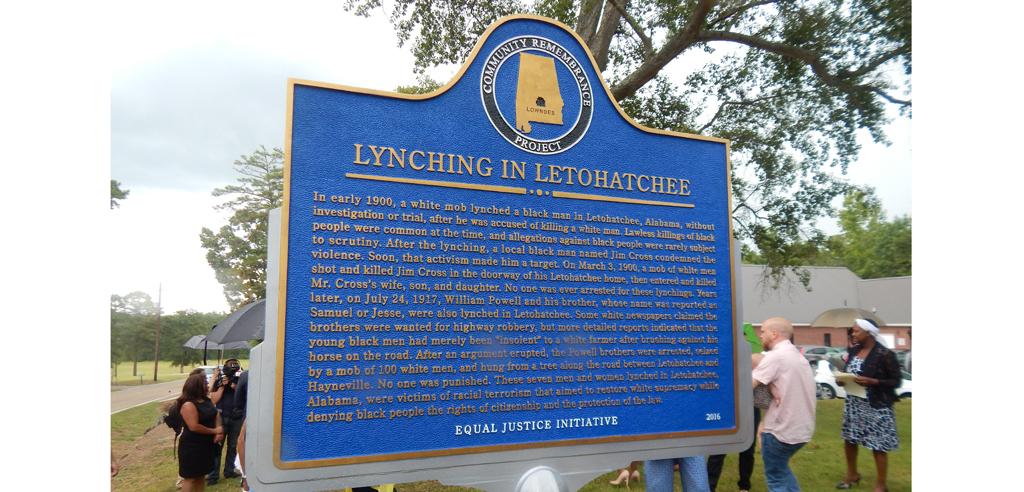 Most Southern terror lynching victims were killed on sites that remain unmarked and unrecognized. EJI is working to broaden and deepen understanding about racial terror in America by placing markers at lynching sites across the country. Like the national lynching memorial, markers that acknowledge the atrocity that happened in that place will change the landscape of the American South, which is saturated with iconography and memorials romanticizing the Confederacy and the effort to preserve slavery.
In partnership with volunteers from local communities and across the country, EJI is collecting soil from lynching sites throughout the South. The jars of soil are part of an exhibit that tells the stories of lynching victims. Hundreds of people are actively engaging in community remembrance projects around the era of lynching.
EJI director Bryan Stevenson has spoken about the power of soil. "In this soil, there is the sweat of the enslaved. In the soil there is the blood of victims of racial violence and lynching. There are tears in the soil from all those who labored under the indignation and humiliation of segregation. But in the soil there is also the opportunity for new life, a chance to grow something hopeful and healing for the future."
Partners
The National Memorial for Peace and Justice will break ground this year, thanks to the support of the Ford Foundation, Google, Atlantic Philanthropies, the Kellogg Foundation, and many individual donors who have supported the effort to date. EJI must still raise millions of dollars to bring this vision to life. We are excited about the opportunity to make an important statement about the history of racial inequality in America.